Study in Canada 🇨🇦
Here are ten more great reasons!
10. Nature and four distinct seasons
While Canada has big cities, we also preserve a huge amount of unsettled land and have many national and provincial parks. Because Canada is such a large country and borders three oceans (the Pacific, Atlantic and Arctic), there is significant diversity in landscape from coast to coast and province to province. Canada also has four very distinct seasons and the temperature varies a great deal throughout the year. In the winter, certain cities almost never have snow, while other cities may get a lot. In the summer, temperatures can reach above 30 degrees Celsius. With such diversity, there's something for everyone, including indoor and outdoor recreational activities at no or little cost.
9. Excellent health care
Relative to other countries, medical insurance in Canada is inexpensive yet the services that Canadian hospitals provide are among some of the most advanced and accessible in the world.
8. Canada's education system

Canada's universities maintain high standards of academic excellence and are consistently recognized in top international rankings. Moreover, Canadian tuition fees are some of the lowest in English-speaking countries.
7. Internationally recognized degrees
Each year hundreds of thousands of international students attend Canadian colleges and universities. Their degrees are recognized around the world as being equivalent to those obtained from the United States or Commonwealth countries. Canada boasts a wide range of quality educational institutions for both degrees and diplomas in technical and professional disciplines.
6. Learn or improve another language!
For over a century, Canada's two official languages (English and French) have been taught as second languages, which is why we are world leaders in language training. International students often choose to take language courses before beginning a regular academic program.
5. Canada is a peaceful, politically stable, and safe country
Canada is a democratic country with laws that protect the rights of our citizens. Our country is also relatively unaffected by natural disasters.
4. A multicultural country
Over the past century and a half, Canada has welcomed 15 million immigrants. Canada is also home to over one million aboriginal people, including First Nations, Métis, and Inuit communities. Canada has a national policy for multiculturalism and works to ensure that people's customs and traditions are preserved and respected.
3. Possibility to work in Canada after graduation
International students who have graduated from a Canadian university or college have the opportunity to work in Canada for up to one year after they receive their degree or diploma. International students can work on campus without a work permit. Plans are being made to allow international students to work off-campus, too.
2. The United Nations ranked Canada as one of the best places in the world to live!
This assessment was based upon Canada's achievements in terms of educational attainment, life expectancy, national income and general quality of life. It also took into consideration Canada's abundance of fresh water, comfortable population density, low incidence of violent crime and model health care system.
1. We are waiting for you!
Canadians are welcoming and respectful of differences. Our educational institutions encourage new students from abroad and strive to grow their international student population. One thing is for sure – your time in Canada will be something that you will never forget! What are you waiting for?
Education in Canada , Masters, MBA, MSc, MS…
Why masters degree from Canada?
Canada offers a high quality, research oriented and affordable education which is recognized world-wide. Canada is a safe, secure, healthy, multicultural and welcoming environment for international students. It's regarded as one of the best countries to live. 100,000+ international students enrolled in Canadian universities in 2014. Many Canadian Universities are ranked in top 100 worldwide.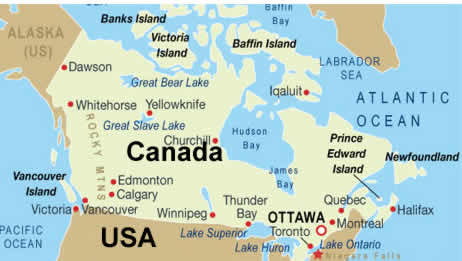 Apply for MS in Canada
To get admission in Canadian University you will need to have TOEFL/IELTS/MELAB scores (for students from non English speaking countries). Some Universities and certain courses in top Universities might require GRE scores. Getting a Canadian student visa is easier as compared to US visa. Cost of education is less (if compared to USA). You get extra credits for your residency if you have a Canadian degree!
Profiles/Admission
Universities of Canada are World Class Institutions and are cheaper than American Universities. The Deadlines Of Most Engineering Programs are in December to February and they have earlier deadline than US Universities. Admissions in Canadian University is relatively easier but getting in top 3-4 Universities is tough. TOEFL/IELTS and Engineering GPA are most important for admission. GRE is also important TOEFL or IELTS score is quite important.
Most Top Universities desire TOEFL>250 (iBT >90-100)
The International English Language Testing System (IELTS): 7.5
The Michigan English Language Assessment Battery (MELAB): 90 with 80 minimum per section including a minimum score Of 3 in the speaking test component.
There are similar requirements at Canada's French-language universities. International students are advised to contact the Canadian university where they wish to study about one year in advance.
Cost Of Study
Canadian University are cheapest among UK, USA, Australia. The Commonwealth scholarship is one source of funding for Canadian Universities at the post-graduate level (for Masters in Canada) , but is restricted to a very limited number of students of exceedingly high intellectual promise who live in Commonwealth countries.
Canadian Student Visa
Around 200,000 students go to Canada (every year) for education (mostly from Asia). Act now to study in Canada during 2017/18
The Student visa allows students to study in Canada either at a primary, secondary, or post-secondary institution, or in a vocational or professional capacity.
You can study for a maximum of 6 months with a visitor's Visa. You do not need a Study Permit (student visa) if you are planning to take a course or program in Canada with a duration of six months or less.
You need to complete application forms and submit it to Canadian Embassy. All the documents must be either original or photocopies notarized (as defined in the application guidelines).
Documents Needed for Canadian student visa
Here are some of them:
A valid passport.
A Letter of acceptance from University/School.
Proof that you have enough funds to support yourself for your entire stay (tuition fees + living expenses) in Canada.
A medical clearance (might have different rules for different countries) if required by immigration.
A letter from your employer or sponsoring organization if you are being sponsored.
CAN $150 for the application fee.(please check the latest fees)
Police Certificate to show that you don't have any criminal record.


---

Following documents are highly recommended

---

IELTS test results taken within last 24 months with overall band not less than 6.0
Copy of an Educational Loan from Bank equivalent to at least 80% of tuition + living + travel expenses for one academic year (normally, first year's tuition unless already paid, plus $8000).
Once you complete your education then you may be eligible for applying for work permit (max. duration is three years)
Toronto International college
Lethbridge College
Royal Roads University
Selkrik College
Fleming College
Georgian College
Sheridan College
Lawrence College
Centennial College
Vancouver Island University
Mc Master University
Dalhousie University
Fanshawe College
Red River College
University of the Fraser Valley
Fairleigh Dickinson University
Capilano University
New York Institute of Technology
Canadian institute of Mass Communication
Study in Canada, Educational Consultants for Canada, Work and study in Canada, Canadian institute of Mass Communication, best consultants for Canada,